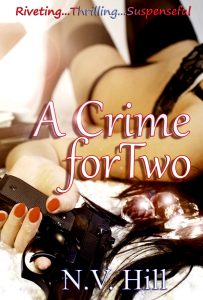 About A Crime for Two:
Steam Level: 5
Upstanding Officer, Dedicated Daughter, or Stone Cold Killer?
She's Taking Crime to an Unspeakable Level
At a very young age, Crystal knew that she wanted to be a police officer just like her father. Crystal's dad was nothing less of a superhero in her eyes and she was flabbergasted every time she caught a glimpse of him on television in his superhero uniform. Of course, as she got older she realized that it was just the evening news reporting local crime, but that didn't undercut her admiration for him.
Tragedy struck as one of her dad's most joyous occasions transpired into a nightmare. Shortly after his promotion as lead detective, he was murdered during a sting operation. Crystal's devastation carried on throughout her personal and professional life. Her ability to cope had dissolved and her festering emotions wreaked havoc.
If you enjoy thrillers with a touch of eroticism, this is the head-spinning suspense to read!
Buy the ebook:
Buy the Book On Amazon
Buy the Audio book:
Buy the Book On Amazon
Buy the Book On Audible
Author Bio:
Writing urban fiction is my passion. My writing career began once I started writing articles on multiple topics for different websites, but I hadn't yet established myself as an author.
Through my college years, I learned and absorbed useful information regarding skin nourishment, hair care products, and natural remedies in addition to being anxious to express my creativity and experiences in the Urban Romance genre.
I published my first Romantic Suspense novel "Partially Broken Never Destroyed" in 2012, which was when I took on the title of being an Authoress. Be sure to check out all five parts of this Urban Thriller series and visit my website.
Partially Broken Never Destroyed I
Partially Broken Never Destroyed II: Mirror Mirror
Partially Broken Never Destroyed III: The Trilogy
Partially Broken Never Destroyed IV: Unholy Matrimony
Partially Broken Never Destroyed V: The Devil's Advocate
Follow the author on social media:
Learn more about the writer. Visit the Author's Website
Facebook Fan Page
Twitter
Instagram
All information was provided by the author and not edited by us. This is so you get to know the author better.
This site contains affiliate links to products. We may receive a commission for purchases made through these links.