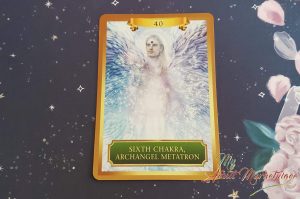 The Card of the Day is Sixth Chakra, Archangel Metatron from the Energy Oracle Cards by Sandra Anne Taylor.
Affirmation: My sixth chakra is open to it's perfect, healthy state. My person vision guides me, and my thoughts are peaceful and clear.
This very powerful Archangel Metatron brings brilliant indigo vibrations to your brow chakra – or Third Eye – which is the center devoted to insight and clear thought. When this card appears upright, it indicates a much greater clarity in your thought process and an expanded perspective toward broader horizons. Some new perceptions are taking hold, and the clouds of confusion are taking hold, and the clouds of confusion are clearing. In some ways, this could be a new beginning, for you're on your way to developing a deeper insight about what's going on in your life and why.
Now is the time to focus on your personal vision. What do you want your life to look like in the years ahead? Create a clear picture of that and support it with your daily thoughts. The insight you need to create a vibrant life is available to you now.
Purchase your own personal card of the day reading via email.
Links included in our posts may include affiliate links so that we earn a small commission if you make a purchase through them.
This site contains affiliate links to products. We may receive a commission for purchases made through these links.