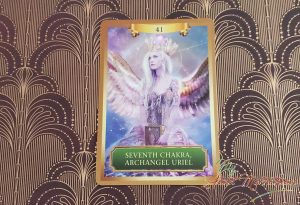 The Card of the Day is Seventh Chakra Archangel Uriel from the Energy Oracle Cards by Sandra Anne Taylor.
Affirmation: My seventh chakra is open to it's perfect, healthy state. Love and inspiration from Spirit – and my own intuition – flow fully to me now.
The beautiful angel Uriel – also called the Fire of God – wears a brilliant crystal crown vibrating with a passionate connection to the Divine. She brings great power to your seventh energy center, which is called the crown chakra and is located at the top of your head. This card upright indicates an open and free-flowing channel of information and inspiration from the wonderful beings in the spirit world. This could also be a time of great intuition for you and guidance from your higher awareness, so allow yourself to quiet your mind and listen.
Now is a great time to get connected. The assistance from Spirit is great, and whether it's the presence of an Ascended Master, a powerful angel like Uriel, or just a love friend or family member in spirit, their love and willingness to assist is always there. They even open you to the Akashic Records (or Alaya Consciousness) the storehouse of all information! This connection is open now, and you will find that your own spirit and the spirits of those around you will be able to provide the answers you seek and the blessings you desire and deserve.
Purchase your own personal card of the day reading via email.
Links included in our posts may include affiliate links so that we earn a small commission if you make a purchase through them, at no additional cost to you.
This site contains affiliate links to products. We may receive a commission for purchases made through these links.