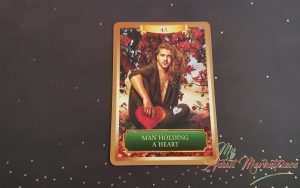 The Card of the Day is Man Holding A Heart from the Energy Oracle Cards by Sandra Anne Taylor.
Affirmation: I am comfortable with all of my emotions. I honor and express them in appropriate ways. I feel peace.
This tender man sits with flowers all around, holding a heart in his hand. For a man, this signals a greater clarity about emotions and their purpose in your life. There could be a more balanced approach to family and love at this time – even if these have been confusing experiences for you in the past.
For some, this card upright could signal the presence of a new man in your life – one who tends to be more thoughtful and aware. Whether or not this man is a love interest or a friend, he brings a high intention to help where personal projects, family or home issues are concerned.
Purchase your own personal card of the day reading via email.
Links included in our posts may include affiliate links so that we earn a small commission if you make a purchase through them, at no additional cost to you.
This site contains affiliate links to products. We may receive a commission for purchases made through these links.