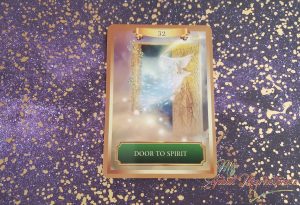 Today's card of the day is Door to Spirit from Energy Oracle Cards by Sandra Anne Taylor.
Affirmation: I relax and connect with my spirit's wisdom and power. I live in the peace that my spirit brings, and know that the world of Spirit supports me.
This door opens onto the expansive energetic realm where all new beginnings originate. The orbs of light are guiding you through the clouds of the earthly world, leading you to a deeper understanding of your eternal identity – the source of all true value and power.
This door opens onto truly unlimited potential, for the changes that happen here reach deep into the core of your being. As such, this card often heralds your increasing powers in the spiritual arts and a deepening connection with the spirit world. Don't be surprised if you find yourself becoming more intuitive, more aware of Spirit's presence, or more powerful in your own healing practices. Now is the time to open up to unexpected guidance and inspiration of spirit and to the magic and power of your true identity!
Purchase your own personal card of the day reading via email.
Links included in our posts may include affiliate links so that we earn a small commission if you make a purchase through them.
This site contains affiliate links to products. We may receive a commission for purchases made through these links.