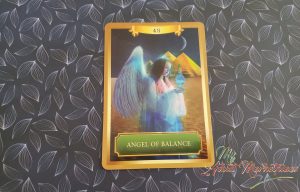 The Card of the Day is Angel of Balance from the Energy Oracle Cards by Sandra Anne Taylor.
Affirmation: I live a balanced and centered life. As I care for myself, the Universe cares for me also.
This loving presence holds a pitcher of liquid light in front of the pyramids, reminding you that a strong destiny relies on a solid foundation of personal balance and emotional equanimity. Although things may have been out of sync in the past, this card is telling you that a greater equilibrium is now coming to your life.
Remain conscious about how you are balancing your goals and your physical and emotional energy as well. Whenever you feel yourself getting off center or losing focus, call upon this beautiful angel and bring her intention into your heart center. Your intuition will lead you in the right direction, and the angel will guide you to a peaceful and centered approach.
Purchase your own personal card of the day reading via email.
Links included in our posts may include affiliate links so that we earn a small commission if you make a purchase through them, at no additional cost to you.
This site contains affiliate links to products. We may receive a commission for purchases made through these links.