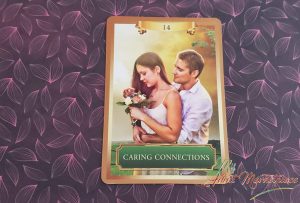 The Card of the Day is Caring Connections from the Energy Oracle Cards by Sandra Anne Taylor.
Affirmation: I open my heart and life to truly caring connections. The ideal friend and partner is coming to me now.
This card shows a couple in a tender embrace, with the woman holding the blossoms of new love. Like the Community card, this reveals a caring connection – but usually between two people only. This card upright signals the beginning or deepening of a kindred-spirit friendship or even the appearance of new love. It can also signify a formal business partnership.
When this card appears, be on the lookout for new connections presenting themselves. The relationships you already share may become more intimate, purposeful, or present at this time. Notice the opportunities to forge new or deeper bonds. There may be a tender karmic connection at hand.
Purchase your own personal card of the day reading via email.
Links included in our posts may include affiliate links so that we earn a small commission if you make a purchase through them, at no additional cost to you.
This site contains affiliate links to products. We may receive a commission for purchases made through these links.