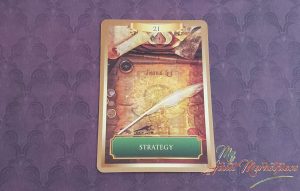 The Card of the Day is Strategy from the Energy Oracle Cards by Sandra Anne Taylor.
Affirmation: I plan the necessary steps to achieve my goals, and I am willing to take action in that direction. I am flexible, persistent and prepared.
This card shows a pen, journal, compass, and key. When you receive this card upright, it indicates that this is the optimum time for setting up a very specific strategy for achieving your goals.
Write about the direction you want to go in. Consider any potential change in course that may be needed. Be aware of the particulars regarding your goals and have some conscious plan in mind. Structure the short-term goals needed to make your long-term goal a reality.
This card is telling you to spend some time setting things in order. It's time to take full control. Add thought to action, and set your sights on the road ahead.
Purchase your own personal card of the day reading via email.
Links included in our posts may include affiliate links so that we earn a small commission if you make a purchase through them.
This site contains affiliate links to products. We may receive a commission for purchases made through these links.