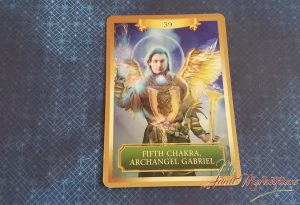 The Card of the Day is Fifth Chakra Archangel Gabriel from the Energy Oracle Cards by Sandra Anne Taylor.
Affirmation: My throat chakra is open to its perfect, healthy state, spinning with the beautiful energy of freedom and self-empowerment. I am fee to express myself in every way.
Gabriel holds his trumpet in one hand and a beautiful orb of blue light in the other. He is sending powerful energy to your throat center, acknowledging your power to communicate and your readiness to do so. This angel opens you up to truthful expression – both within yourself and others.
You may have had trouble with expressing emotions and ideas in the past, but Gabriel is here to tell you that your soul longs to take this leap now. Be aware that true communication includes how you speak to yourself, so never deny your profound, integral value. Speak up for yourself; write in your journal; let your words flow! Now is the time to express yourself freely and fully, and the Universe always honors your choice to do so.
This card could also indicate that a communication project is coming – or a time of heightened communication with Spirit and telepathy with others.
Purchase your own personal card of the day reading via email.
Links included in our posts may include affiliate links so that we earn a small commission if you make a purchase through them, at no additional cost to you.
This site contains affiliate links to products. We may receive a commission for purchases made through these links.