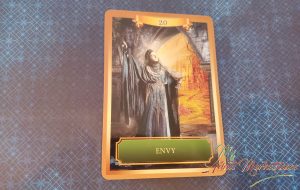 The Card of the Day for is Envy from the Energy Oracle Cards by Sandra Anne Taylor.
Affirmation: I let go of lack. I look at the blessings in my life with joy and satisfaction. I am glad.
This card shows a woman holding a huge pearl in one hand and platter of coins and pearls in hte other. she stands in a silver room looking out at a golden city on the horizon. She has a life of value already, but she ignores that and longs for the shining prosperity she sees elsewhere. Instead of feeling happy and fulfilled, her desire for more only causes a deep sense of lack and dissatisfaction, and that energy shows in her dress.
This card upright is telling you to let go of the jealousy and acknowledge the blessings you already have in your life. Now is the time to shift your focus. After all, when you envy others, it only attracts more to them – not you.
Notice all that you have, and thank the Universe for it.
Purchase your own personal card of the day reading via email.
Links included in our posts may include affiliate links so that we earn a small commission if you make a purchase through them, at no additional cost to you.
This site contains affiliate links to products. We may receive a commission for purchases made through these links.