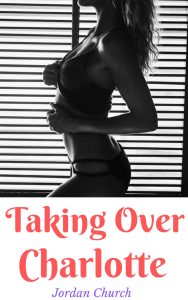 About Taking Over Charlotte:
Steam Level: 5
Teenage lesbian seductress Mindy Short now has her MILF sex pet's daughter living with her in her dorm and the stage is set for the seduction of Joan's daughter Emilia. Mindy can hardly wait to have a mother and daughter sex pet team!
First, there is a potential problem. Emilia's best friend, her bestie, Charlotte Queensberry, also arrives to live on campus. Their friendship, strength in closeness, and Charlotte's cleverness could pose a problem for Mindy's plot.
Charlotte is assigned to dorm with Deb and Shan, two of Mindy's co-dominants. Can Mindy count on them to seduce and tame Charlotte so she won't block Mindy's seduction of Emilia? Or will those two lesbian clowns mess it up like they usually do with things?
If they can seduce and tame Charlotte what kind of sex pet do they want to make her become?
Buy the ebook:
Buy the Book On Amazon
[Read more…] about Featured Post: Taking Over Charlotte by Jordan Church
This site contains affiliate links to products. We may receive a commission for purchases made through these links.