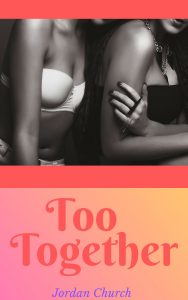 About Too Together:
Steam Level: 100
Teenage lesbian dominant seductress Mindy Short has her eyes on Emilia Greenway, Joan Greenway's daughter, and very nearly has Emilia in her clutches.
Mindy has compelled her sex puppy Joan Greenway to assign her only child Emilia to room with Mindy, Joan's Owner. Mindy wants to Own both mother and daughter. Now Emilia cannot escape contact with Mindy or being forced to witness Mindy treating the third roommate, Pet Cara, as a sex pet.
Emilia's potential source of strength, her best friend "bestie" Charlotte, is unavailable to her. She does not know about Charlotte's submission to Mindy's domme friends and that Charlotte has become Kitty Kitty, a human sex cat.
Emilia is on her own, her mother has betrayed her, and her best friend has submitted. Now Mindy has a plot to close the noose around Emilia and tame her as a submissive to add to her growing collection.
Emilia is aware of what Mindy is trying to do. So, she should be able to resist and avoid the terrible fate Mindy has planned for her.
Right?
Buy the ebook:
Buy the Book On Amazon
[Read more…] about Too Together by Jordan Church
This site contains affiliate links to products. We may receive a commission for purchases made through these links.