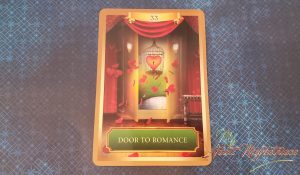 The Card of the Day is Door to Romance from the Energy Oracle Cards by Sandra Anne Taylor.
Affirmation: As I open the door to my own self-love, I attract more and more loving tenderness to me.
Whether you're looking for a new relationship or just more love in the relationship you're in, this door with a heart opens onto a new beginning in your experience. A new love may be arriving, and you are being brought together by a strong, resonant connection. This may be a call from a past life, or it may be a new tenderness about to bloom into heartfelt affection.
This relationship already exists in energetic potential, so when this card appears in your spread, make sure you are projecting the kind of self-loving energy that you want to receive from others. Be aware that the Universe returns your self-caring treatment to you. It's ready to open that door. Are you?
Purchase your own personal card of the day reading via email.
Links included in our posts may include affiliate links so that we earn a small commission if you make a purchase through them, at no additional cost to you.
This site contains affiliate links to products. We may receive a commission for purchases made through these links.