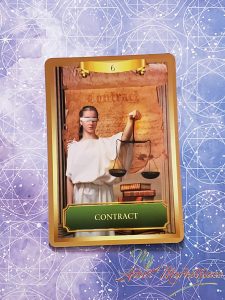 The Card of the Day for January 28, 2020 is Contract from the Energy Oracle Cards by Sandra Anne Taylor.
Affirmation: I am attracting wonderful, beneficial connections that support and honor me and bring me great happiness and abundance.
This card shows a contract in the background, ready to be signed, indicating a committed connection of some sort. This union may be a business deal, the sale of a home, a new job, or even a commitment in marriage. Whatever the connection, this card is more than a casual agreement. It's usually something that requires a document that's binding – at least for the time being.
The scales of justice also indicate that if a legal action is underway, it is likely to turn out in your favor. This card shines a light on potential new opportunities, so remain aware and receptive to what may be coming your way.
Purchase your own personal card of the day reading via email.
Links included in our posts may include affiliate links so that we earn a small commission if you make a purchase through them, at no additional cost to you.
This site contains affiliate links to products. We may receive a commission for purchases made through these links.