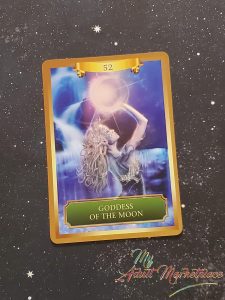 The Card of the Day for January 31, 2020 is Goddess of the Moon from the Energy Oracle Cards by Sandra Anne Taylor.
Affirmation: I have a strong intuitive voice. I freely receive your guidance, and I understand and trust the messages I receive.
This card shows an eternal spirit holding the bright, reflective moon and standing in front of the crystal clear waters of a sparkling waterfall. Her arms are stretched upward, receiving the light of the moon, the light of inspiration.
This card is all about intuition, the ability to receive insights from your soul's point of view. Receiving the card upright tells you that you have the power to get intuitive information on all types of issues, and now is the time to use it!
The Goddess of the Moon brings you all sorts of information, from the mundane to the spectacular. For instance you could get the urge to take a different route home from work and find out later that you've avoided a three-hour traffic jam. Or you might have an idea for a great invention, a stock investment or a spellbinding novel. This card could also indicate a significant blossoming of psychic ability and mediumship – even on a professional level.
You're always blessed with this ability to connect, but this card is telling you that now is the perfect time to open up. Get ready for the amazing inspiration this brings!
Purchase your own personal card of the day reading via email.
Links included in our posts may include affiliate links so that we earn a small commission if you make a purchase through them, at no additional cost to you.
This site contains affiliate links to products. We may receive a commission for purchases made through these links.