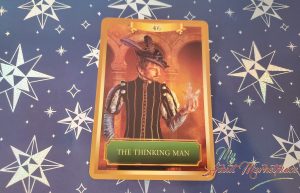 The Card of the Day is The Thinking Man from the Energy Oracle Cards by Sandra Anne Taylor.
Affirmation: I am willing to learn new things. It is safe and comfortable for me to open up and share.
This card shows a man standing before an archway, gazing at a crystal in his hand. He is a thoughtful and reflective man, representing the potential presence of a teacher in your life now, or about to arrive soon. This person may be there to educate you in the finer details of your chosen direction, or may be there to assist you in some specific spiritual, mental or emotional pursuits. The card is telling you to pay attention, for this could lead to great strides in personal or professional growth.
This man may also be a love interest coming your way – or perhaps just a new male friend. But be on the lookout for this guide in the physical world and be open to his information. Learn what you can. A new discipline, technique, course of study, or healing practice could change your life forever.
Purchase your own personal card of the day reading via email.
Links included in our posts may include affiliate links so that we earn a small commission if you make a purchase through them, at no additional cost to you.
This site contains affiliate links to products. We may receive a commission for purchases made through these links.