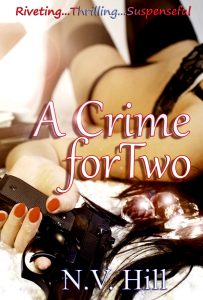 About A Crime for Two:
Steam Level: 5
Upstanding Officer, Dedicated Daughter, or Stone Cold Killer?
She's Taking Crime to an Unspeakable Level
At a very young age, Crystal knew that she wanted to be a police officer just like her father. Crystal's dad was nothing less of a superhero in her eyes and she was flabbergasted every time she caught a glimpse of him on television in his superhero uniform. Of course, as she got older she realized that it was just the evening news reporting local crime, but that didn't undercut her admiration for him.
Tragedy struck as one of her dad's most joyous occasions transpired into a nightmare. Shortly after his promotion as lead detective, he was murdered during a sting operation. Crystal's devastation carried on throughout her personal and professional life. Her ability to cope had dissolved and her festering emotions wreaked havoc.
If you enjoy thrillers with a touch of eroticism, this is the head-spinning suspense to read!
Buy the ebook:
Buy the Book On Amazon
[Read more…] about A Crime for Two by N.V. Hill
This site contains affiliate links to products. We may receive a commission for purchases made through these links.