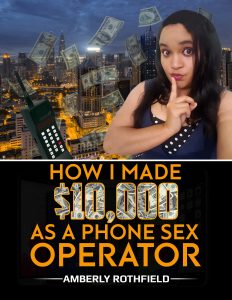 About How I Made $10k A Year in Phone Sex:
Amberly Rothfield breaks down how started in the phone sex industry and began making $10,000 a month consistently talking dirty on the phone.
Using such websites as Niteflirt, IWantPhone and the famous Clips4Sale, Amberly became one of the top fetish content producers as well as phone sex operators in a matter of just a year with her innovative take on marketing where others in the field were not.
While the book does not guarantee success, it is the first of it's kind to offer a blueprint on how to leverage popular websites to create a lucrative work from home business that is not a scam.
Detailing not only how to make phone sex sound effects, Amberly talks about how to use adult friendly websites such as Twitter, Tumblr and even Medium.com to create content that will attract new clients to a budding phone sex business.
Working independently sound too scary for you? Amberly also discusses how to join in already established phone sex companies. Tips ranging from newbie to experienced dirty talker, Amberly helps perfect those who take this industry seriously.
The biggest take away is learning that the phone sex industry has evolved far from it's early 1990s days. Amberly shows how you can develop offline sales and not solely rely on the money from a phone that is ringing. Building sales funnels and applying business principals that few would think could ever apply. No you do not need a four year college degree as it is all laid out in an easy to digest format.
Buy the ebook:
Buy the Book On Amazon
Buy the Book On Gumroad
Buy the Print book:
Buy the Book On Amazon
Author Bio:
Amberly Rothfield is a 31-year-old phone sex operator and BBW Award Nominated Dominatrix who has decided to being writing about her 13-year experience as such!
In her break out book – How I Made 10,000 A Month As A Phone Sex Operator, she discusses in depth (over 250 pages!) process she went through to become the largest grossing account on Niteflirt. This manual goes over every single detail one would need to know from working at companies to striking out on your own! Having reached out to experts in other industries, Mrs. Rothfield ensures that anyone who reads this book will be getting the best advice possible.
Amberly resides in Las Vegas and volunteers with sex worker related organizations. Her life's mission is to show the human side behind consensual and healthy sex work. Growing up in some rough areas of Texas, she rose from her ashes through phone sex and now looks to give back to those who believed in her and helped her become the strong woman she is now.
Follow the author on social media:
Learn more about the writer. Visit the Author's Website
Twitter
All information was provided by the author and not edited by us. This is so you get to know the author better.
This site contains affiliate links to products. We may receive a commission for purchases made through these links.